Description
☑️The first 13.3-inch Eink e-reader with front light
☑️The first high-performance Android™ 10 system
☑️The first application dual-open support, suitable for various professional occasions
☑️Wireless projection
☑️High-resolution 2200x1650 screen
☑️Support electromagnetic and capacitive dual touch (new electromagnetic pen)
☑️ Brand new 1.8 GHz octa-core CPU, 4GB RAM + 64GB ROM
🔋4300mAh long-lasting battery life (standby up to 6 weeks)
Support 2.4Ghz / 5G WiFi dual band
Support Bluetooth 5.0
Support QC 4.0 fast charging
Support OTG memory expansion
Dual microphones + dual external speakers
The first 13.3-inch E-ink tablet uses a front light with CTM,
Upgraded eight-core processor and Android10. MaxLumi provides you with professional reading,
Note-taking and drawing functions can bring you a smooth and satisfying experience.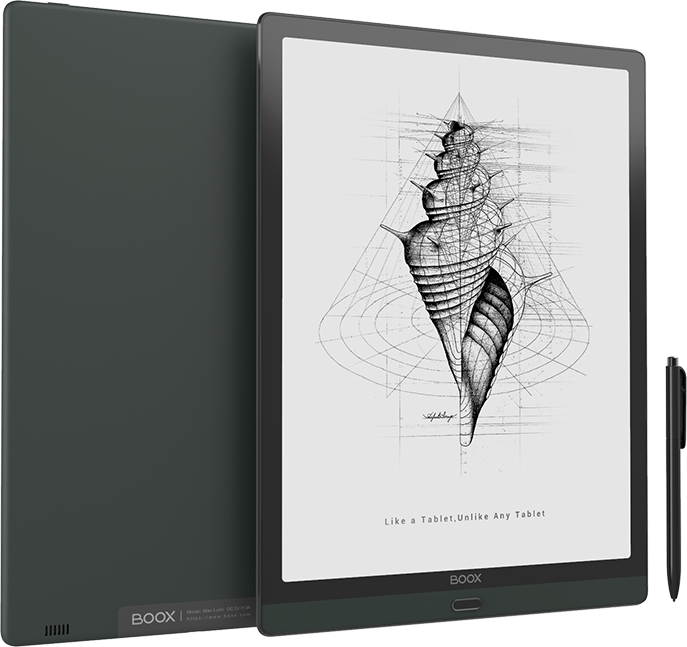 View Clearly and Comfortably At Any Time
With the adjustable front light, 
Max Lumi can help you clearly see the content whether you work and study in the misty dawn, 
dusk or night. And with the illuminated large screen, you can get your tasks done without eyestrain.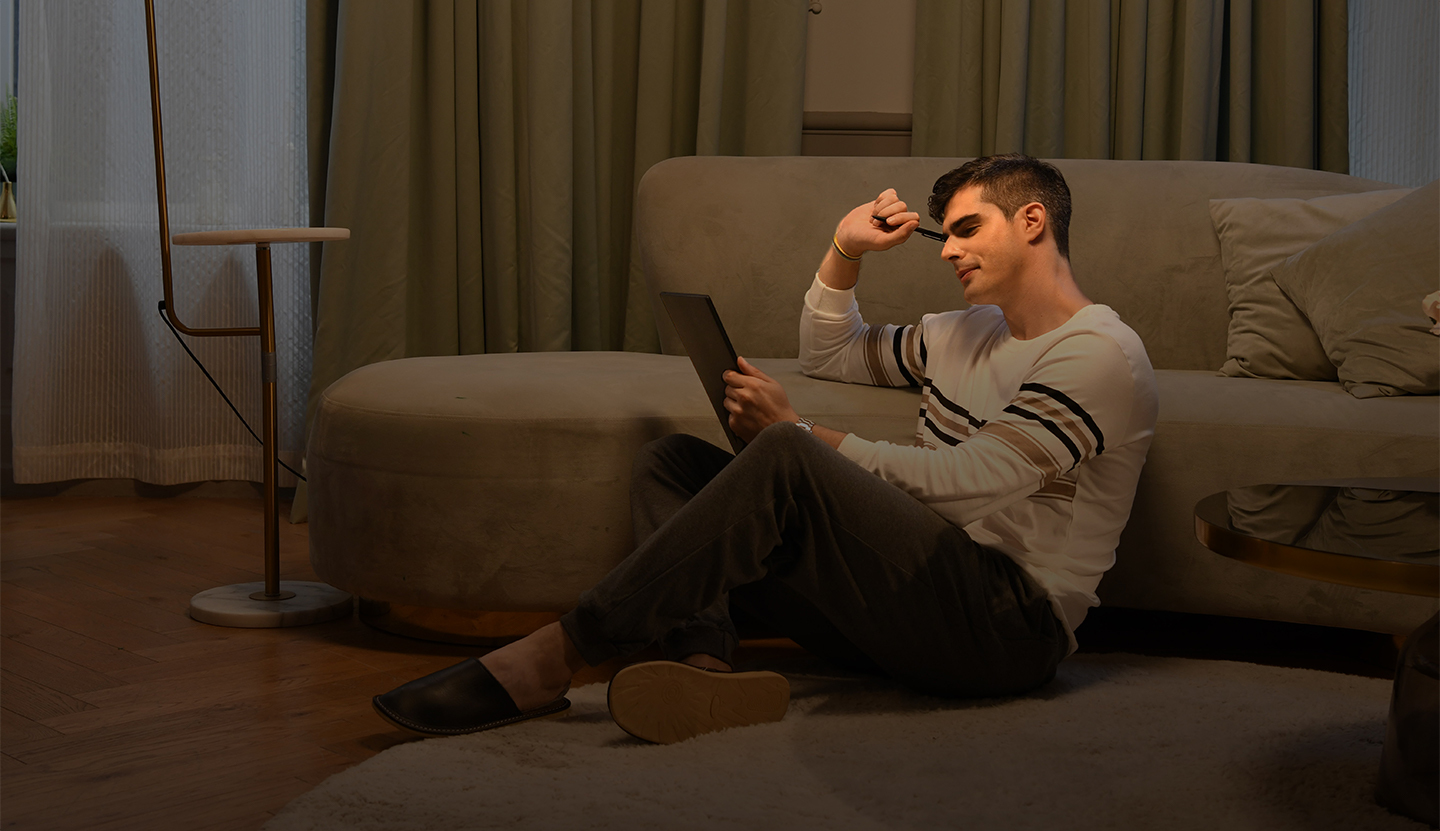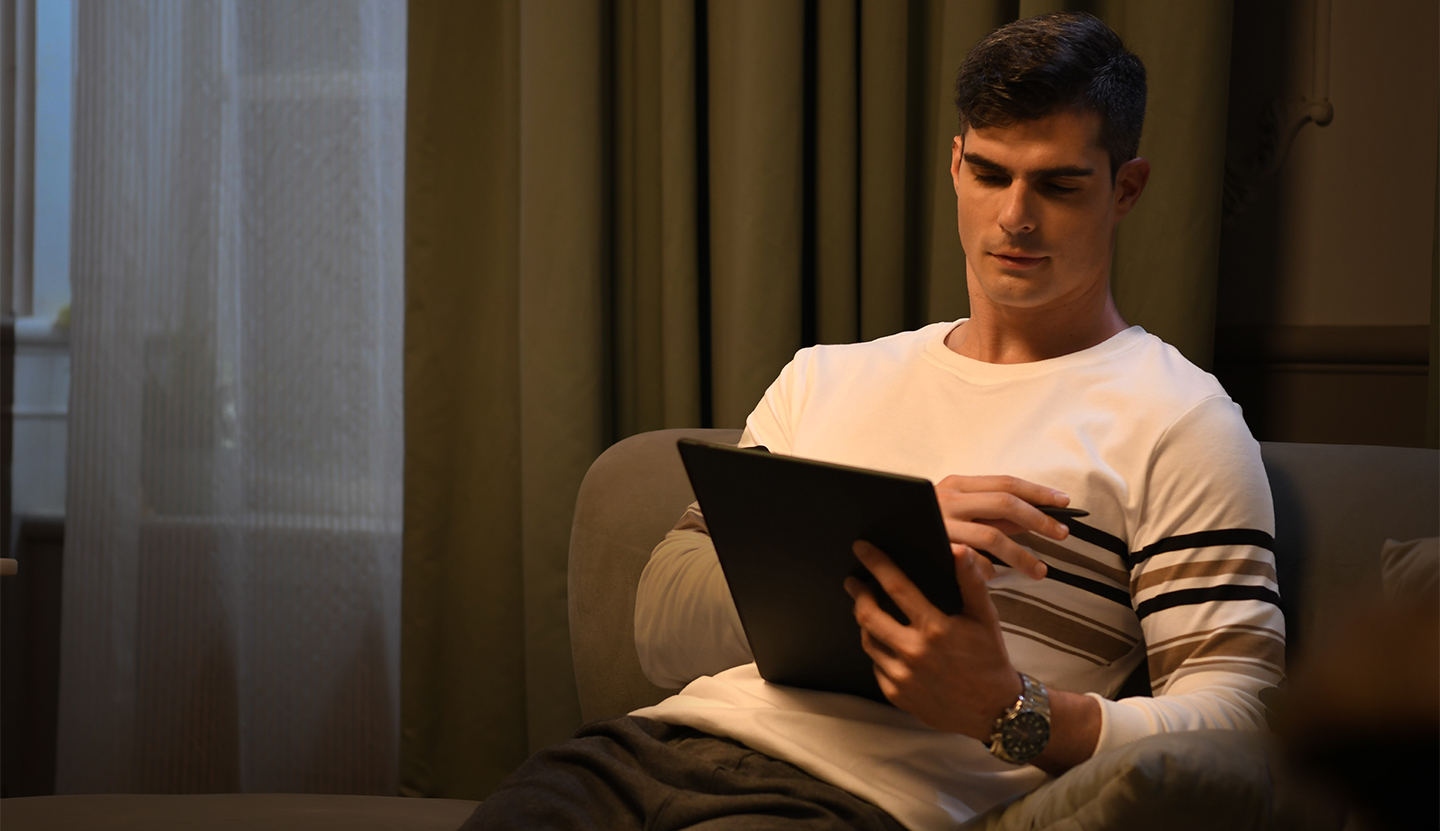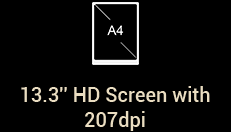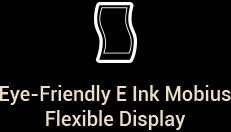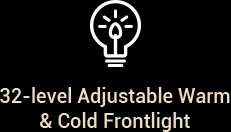 Enjoy Fast Speed and Low Power Consumption
Compared to Max 3, Max Lumi is 30% more responsive and overall 10% more power-efficient. 
It just takes you seconds to download, 
transmit and open large documents and few hours to fully charge the battery.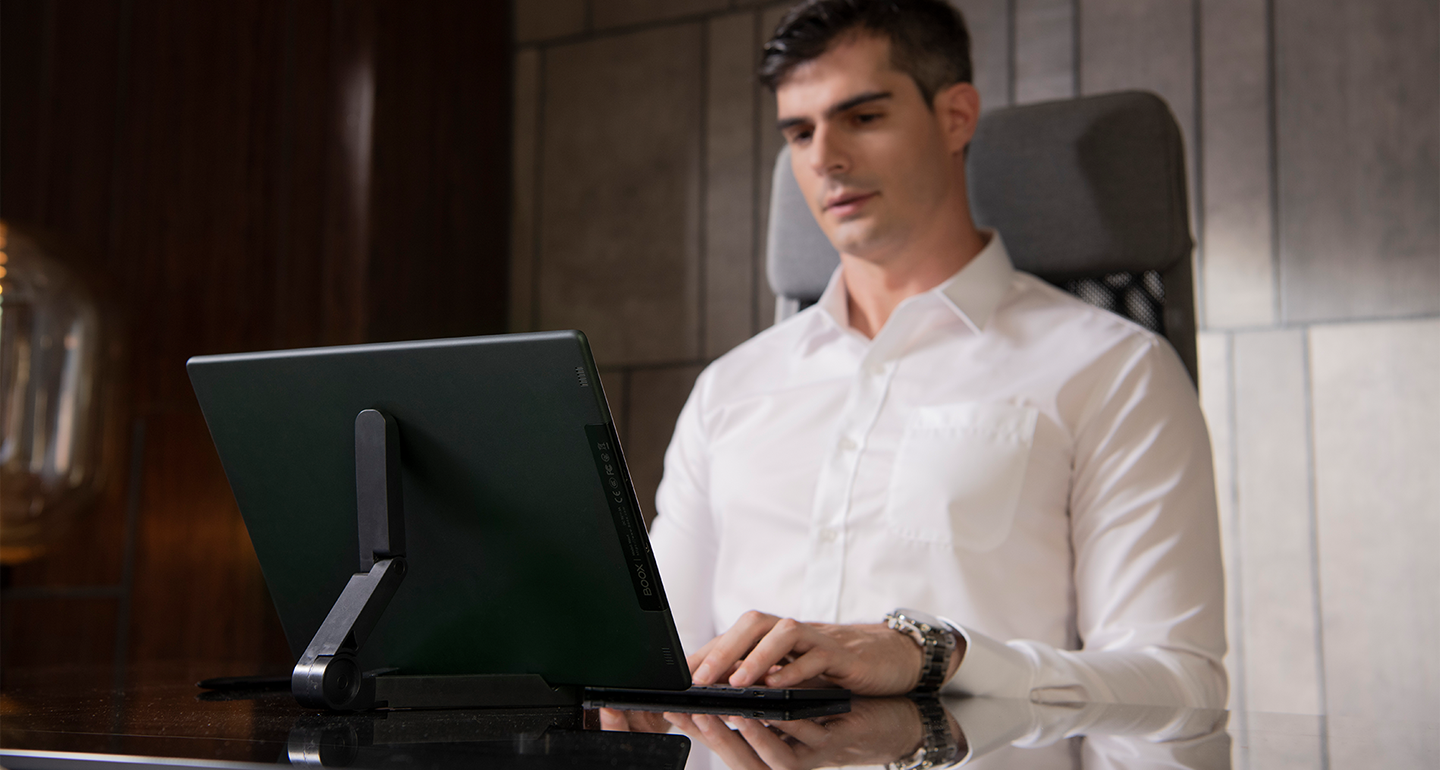 Upgraded octa-core CPUs respond to different commands in the fastest way.
LPDDR4X RAM, UFS 2.1 ROM and BT 5.0 transfer data at ultra-high speed and use less power
The 4300mAh battery capacity can support up to 6 weeks of standby time.
QC4.0 can provide 2/3 of the battery power for Max Lumi in just two hours.
Big. Open. And Smart.
Android 10 allows you to install various apps and 
run two applications on one display to double your efficiency.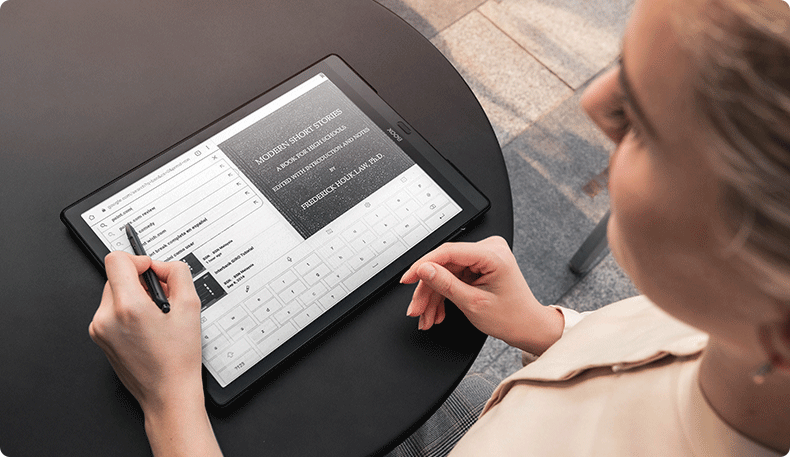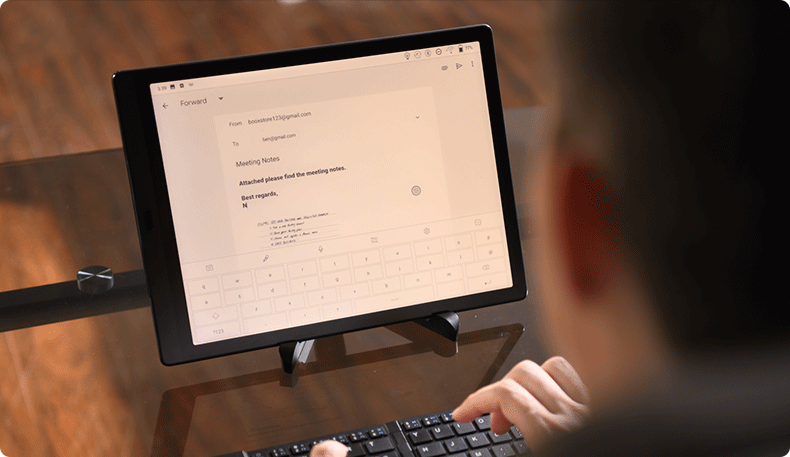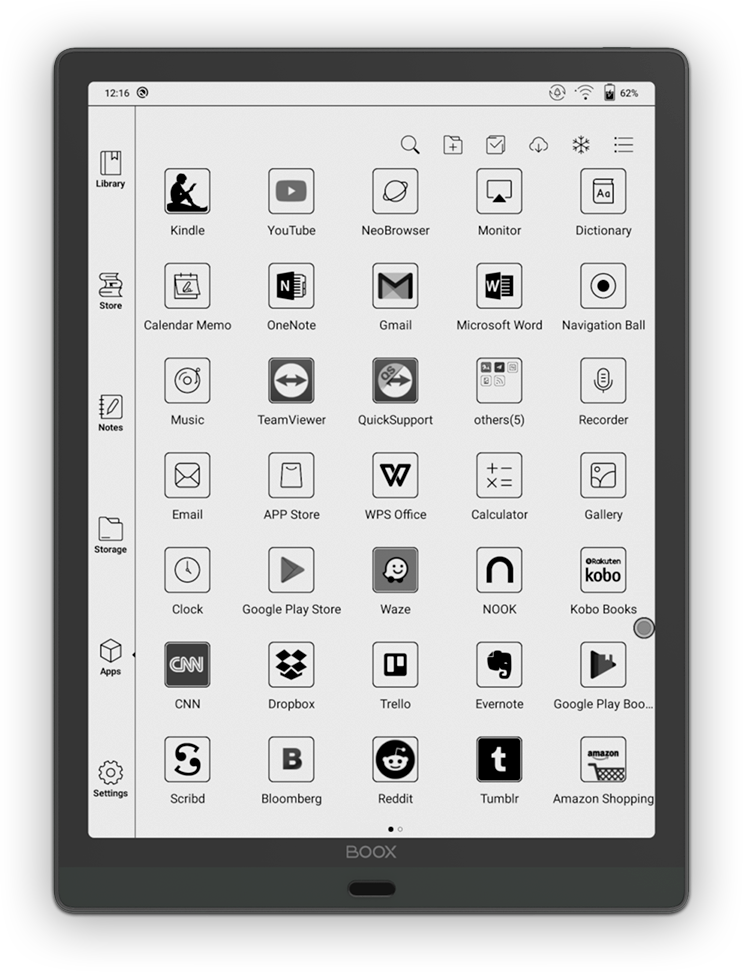 With Max Lumi, you can use versatile tools in the responsive system, 
and read and write comfortably on the illuminated large 13.3'' screen.
A4-Size Screen. Read and Annotate Anything with Ease.
With Max Lumi supporting 20+ file formats, 
you can read and mark up documents in the most comfortable way. 
The 13.3'' screen can decently display A4-size files, such as PDFs, 
and save you much scrolling efforts.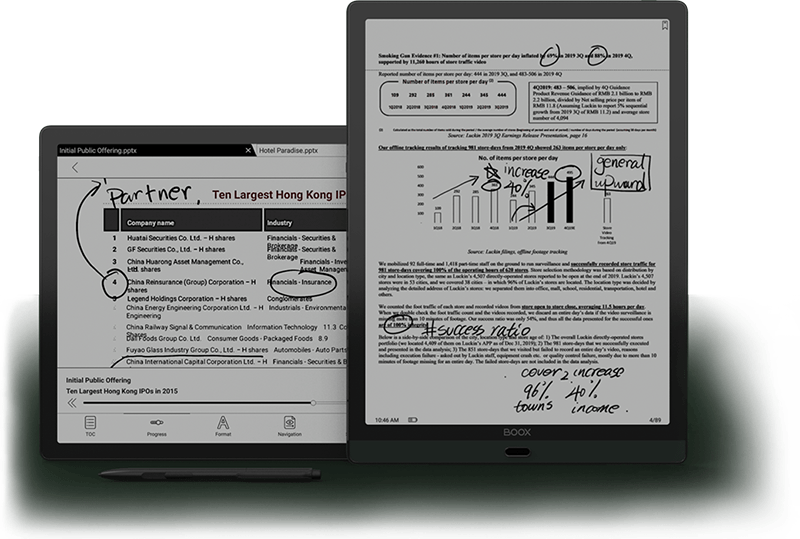 Split View. Expand the Capability of the 13.3'' Display.
Upon splitting the big screen, you turn Max Lumi into 
a robust device that provides a larger space for all kinds of tasks.
The translation is displayed against the source text for handy learning and comparison. 
E-books are shown in a way that can render an immersive reading experience. 
And you can take more notes to comprehend the content.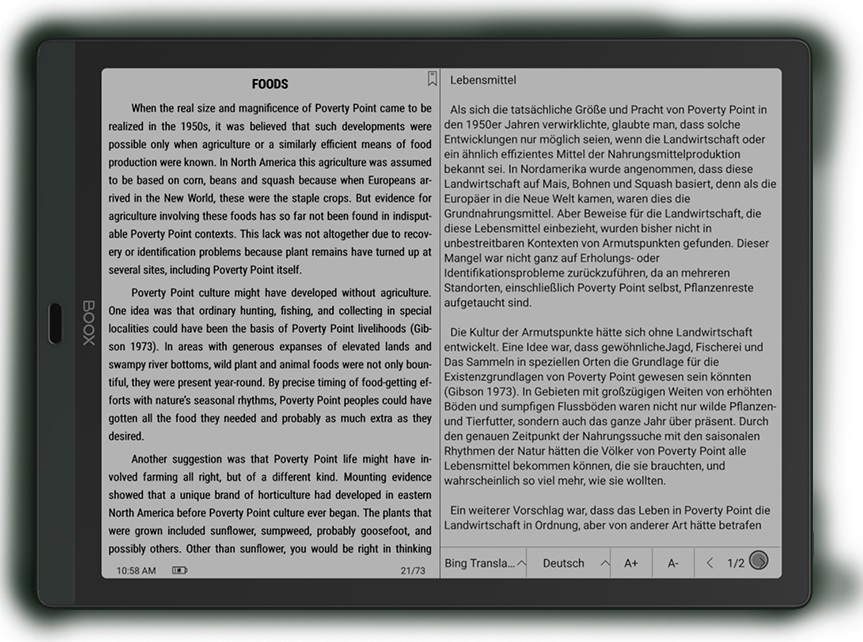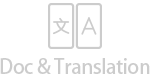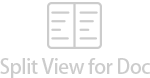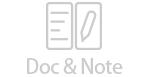 Take Notes with Power Tools on Limitless Area
An array of powerful features will help you take organized notes. 
Move pages within and outside the notepad to organize them quickly. 
And sync your notes to other devices to achieve seamless workflow.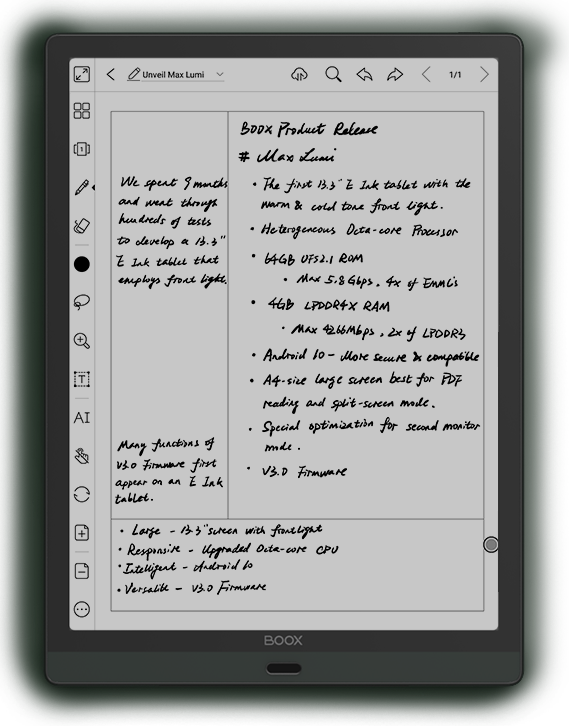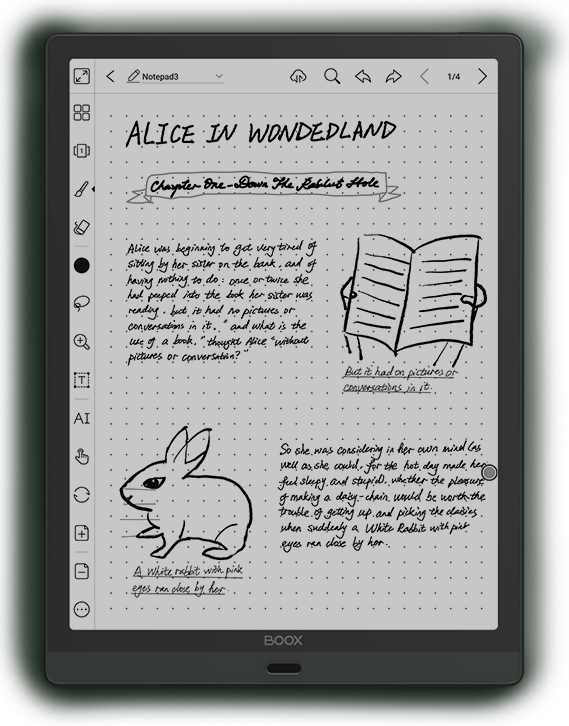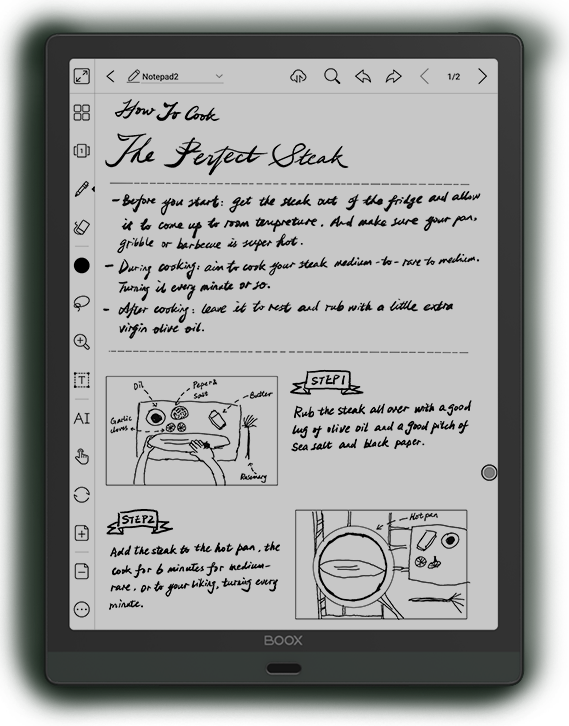 Create Breathtaking Works on Large Canvas
New layers and brushes can turn your sketch into a 13.3'' masterpiece with loads of details.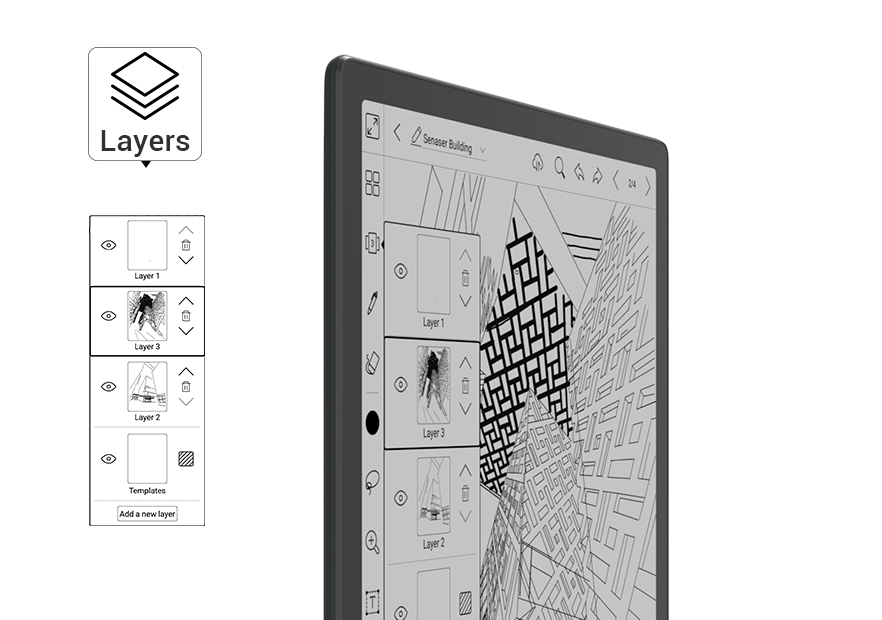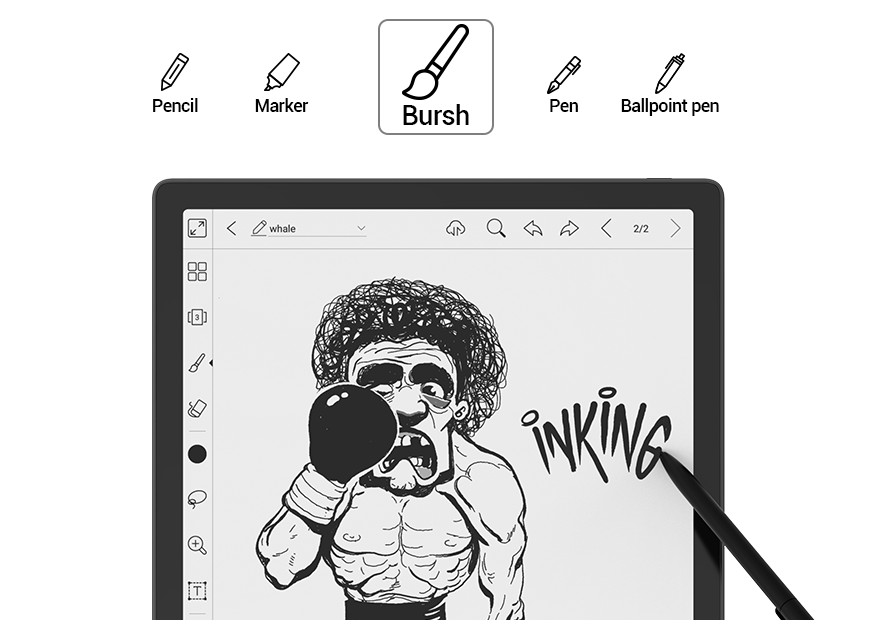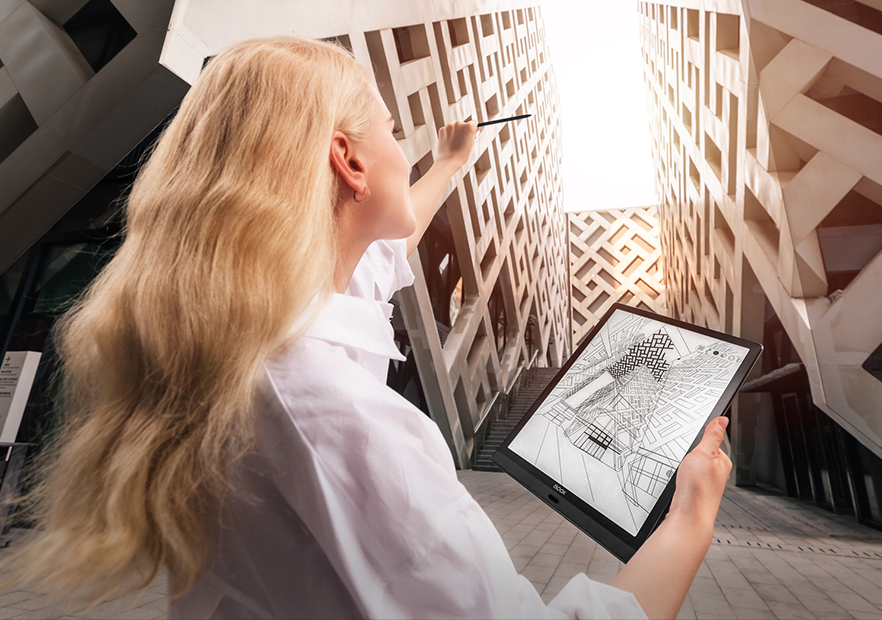 Do More with A Versatile E Ink Tablet
Max Lumi is equipped with the up-to-date V3.0 firmware, 
so you can use more awesome features to enhance your work and 
learn efficiency other than just reading and note-taking.
Wireless Screencast:
You can cast Max Lumi to computers running Windows 10. While you're writing on Max Lumi, 
the computer will show synchronized strokes and make a vivid presentation.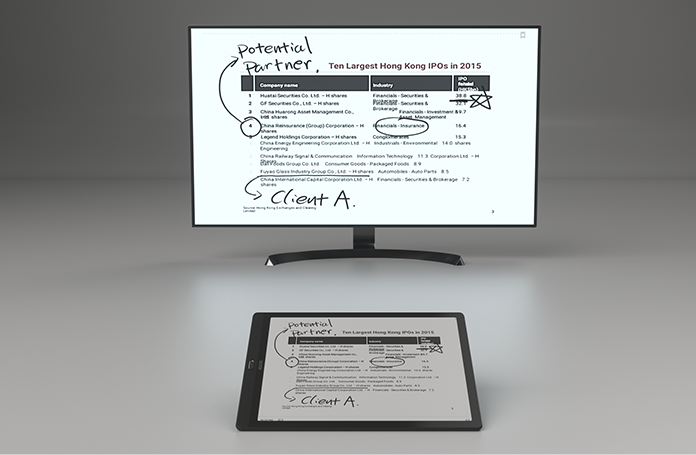 Gallery App:
Max Lumi enables you to graffiti and crop pictures in your preferred styles without mobiles.
You can also share the edited images with your friends to communicate ideas visually.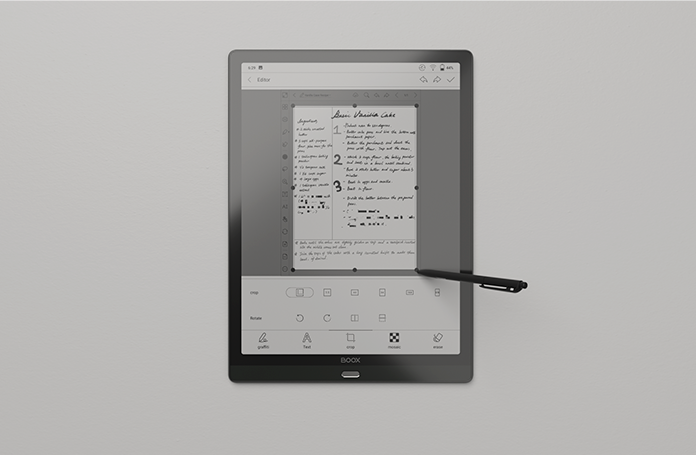 Cloud Push Screensaver Images:
You don't have to transmit screensaver images with a USB connection anymore. 
Just visit push.boox.com and send the pictures to your Max Lumi with just a click.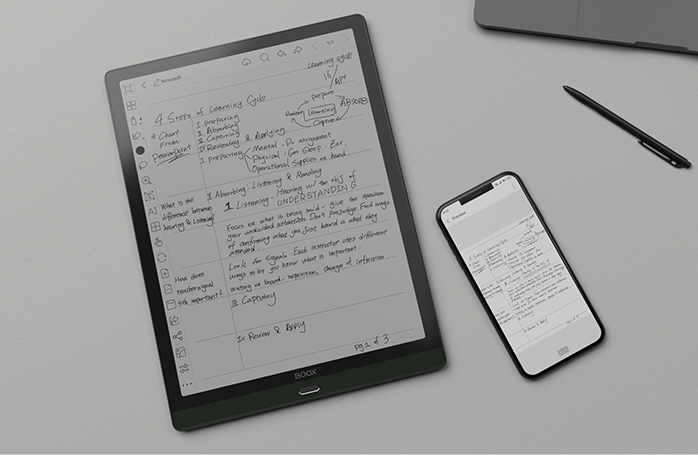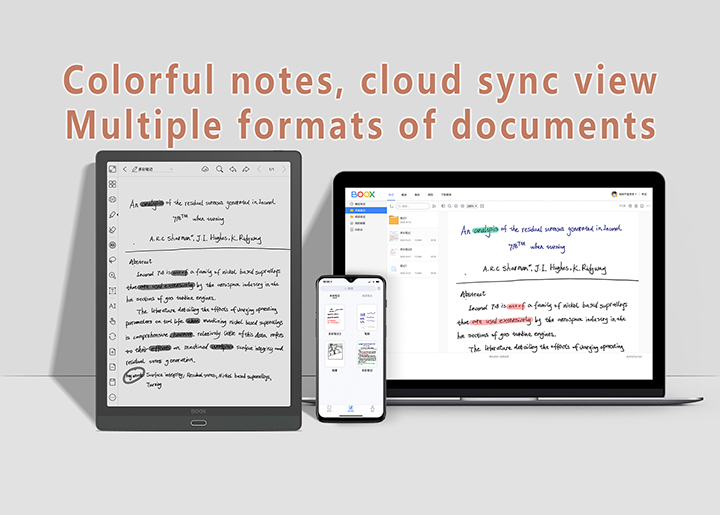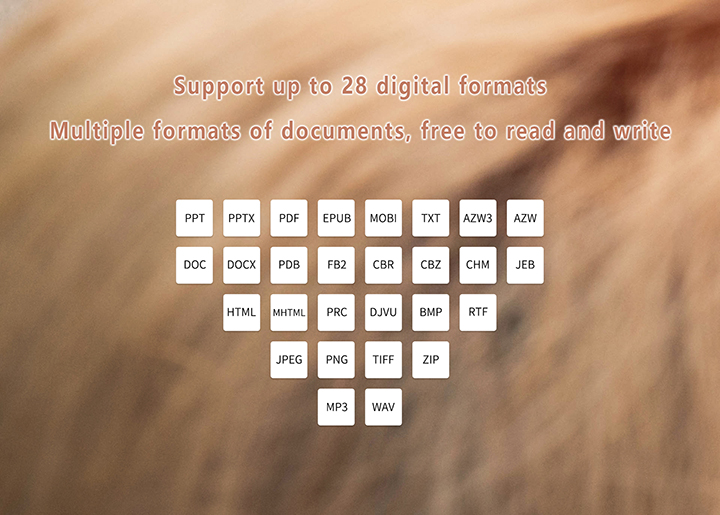 Second Monitor:
You can use an HDMI cable to connect the computer to Max Lumi and 
view text typing comfortably on a similar-size E Ink monitor 
to relieve eye strain caused by the blue light.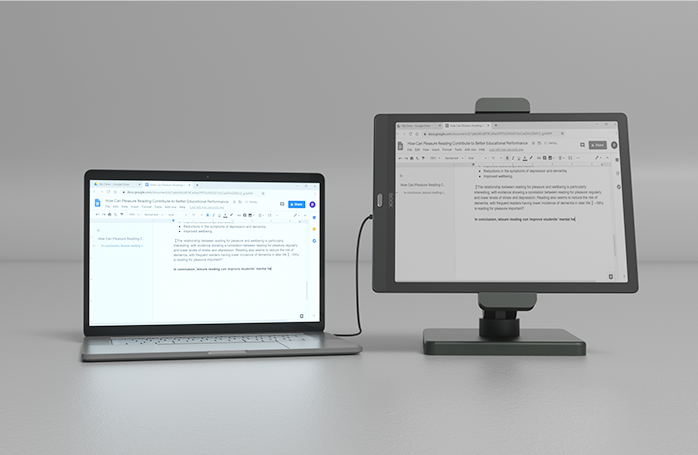 The 13.3'' E Ink tablet that
does everything an eReader
can do and provides you with
powerful features that a tablet can offer.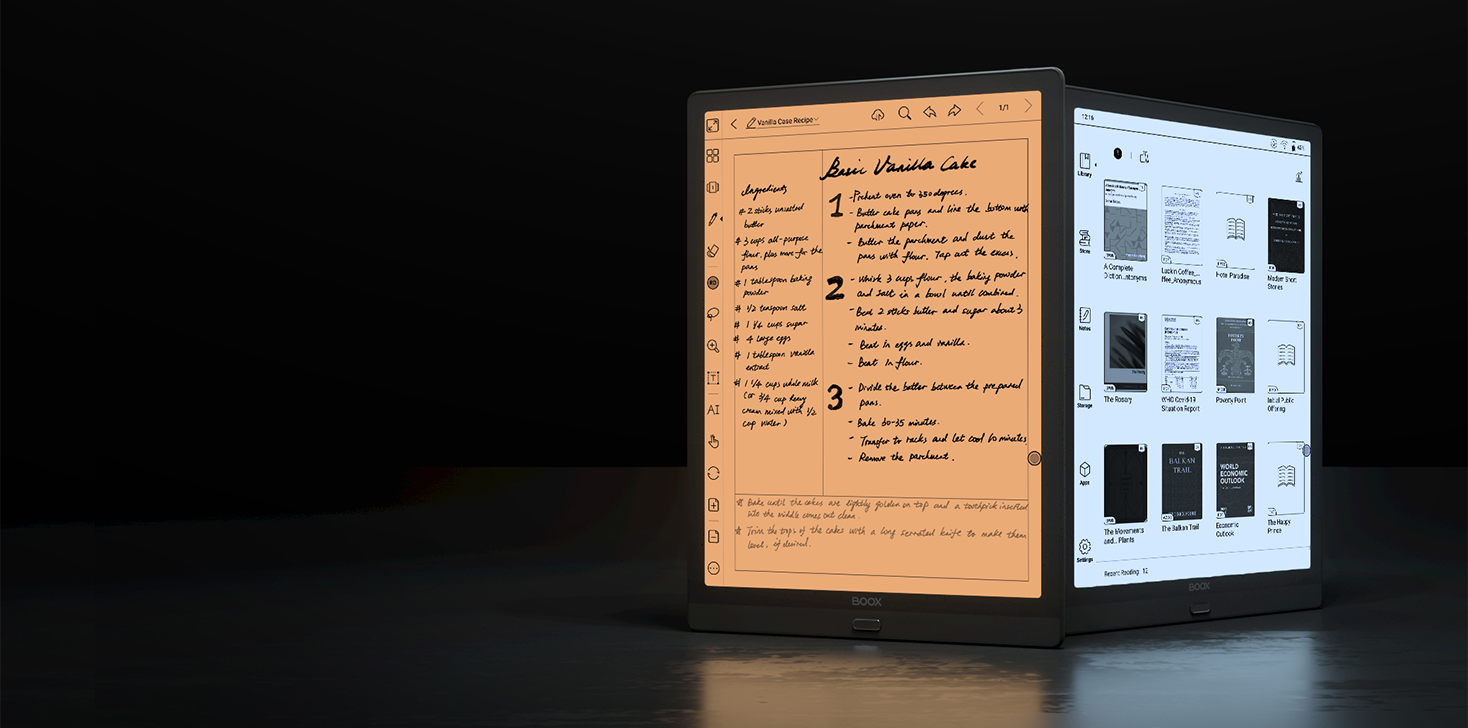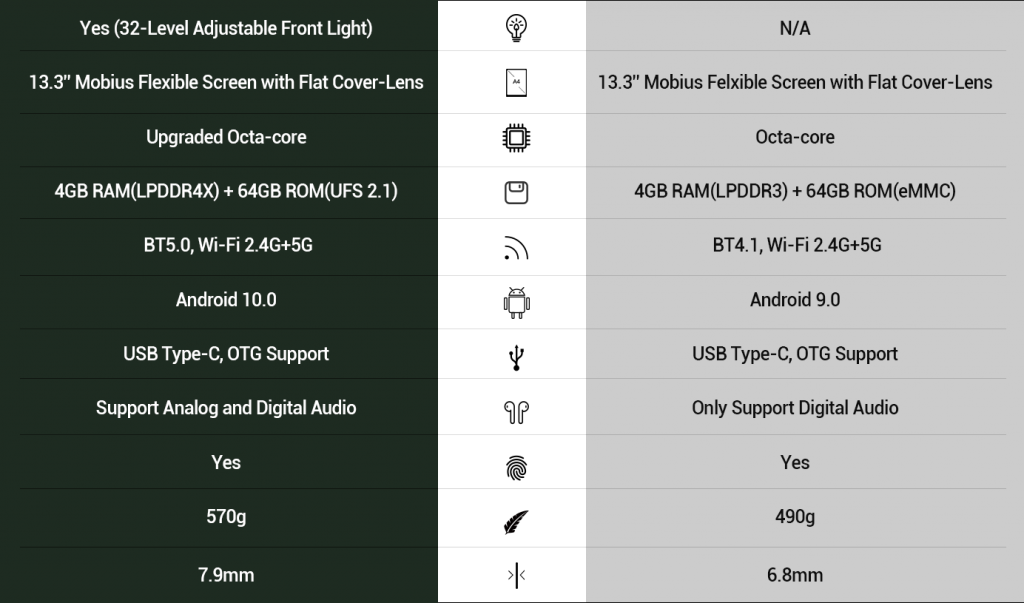 Product Specifications:
Boox Max Lumi
Hardware

Screen: 13.3 " E ink flexible screen with PMMA flat cover-lens
Resolution: 2200x1650 Carta (207dpi)
Touch: Wacom digitzier with stylus (4096 levels pressure sensitivity) + capacitive touch
CPU: Updated Octa-core
RAM: 4GB LPDDR4X memory
ROM:64 GB (UFS2.1)
Connectivity: Wi-Fi (2.4GHz + 5GHz) + BT 5.0
Front Light with CTM (Warm and Cold)
Software

OS: Android 10.0
Documents Formats: PDF(reflowable), PPT,EPUB, TXT, DJVU, HTML, RTF, FB2, DOC, MOBI, CHM...
Image Formats: PNG, JPG, TIFF, BMP
Audio Formats: WAV, MP3
APP Store: BOOX Store
Support DRM(3 party apps)
Others

Buttons: power, back button with fingerprint recognition
Expansion Interface: USB Type-C (support OTG)
Monitor Interface: Micro H**I
Speaker: Dual speakers
Mic: yes
Earphone Jack: USB-C earphone jack
Battery: 4300mAh Polymer Li-on
Battery Life: Up to 6 weeks (standby mode)
Dimensions: 310*228*7.9mm
Weight: ≤570g
Certification

CE, ROHS, FCC, TELEC, CCC