13 Full-sized Megapixels, 340DPI, Patented 'Curve-flatten' Technology, Scan A Book In 10 Minutes

With more than 20,000 backers and 150,000 users around the world, we at CZUR thought to ourselves, what can we do next for our loyal fans? We wanted to create something that digitises and preserves your most precious printed creations and memories, and at the same time, is more affordable and more portable! After a lot of hard work, we have it with the CZUR Shine Ultra.
CZUR Shine Ultra is a revolutionary book scanner that covers all your scanning needs! Featuring our patented "curve-flatten technology", auto-focus, auto page-turning detecting,it scan books even faster, with an incredible of 1 second per page, so scanning an entire book will only take you minutes. Along with a lot more features, this is your perfect scanning companion.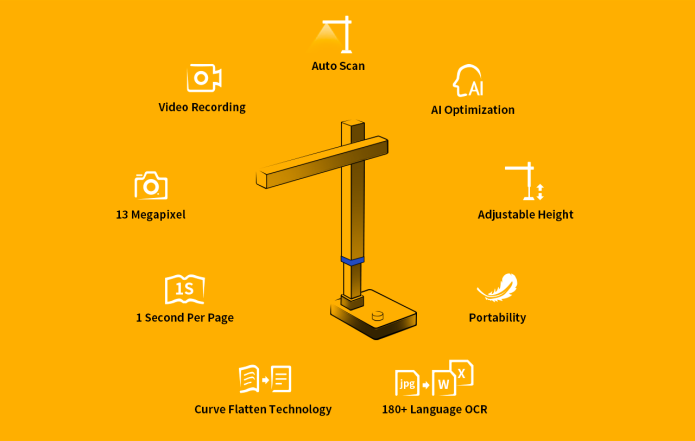 Using a traditional scanner to scan books is exhausting. Existing machines' bulky size and price also mean it's not for everyone. That's why we set out to create CZUR Shine Ultra. Thanks to its auto-focus and auto page-turning detecting, plus a super handy foot pedal for hands-free operation, Shine Ultra is the fastest scanner on the market.It allows youto scan at an incredible one second per page - so you can easily scan an entire 300-page book, book in 10 minutes or so.
With OCR (Optical Character Recognition) functionality, Shine Ultra enables you to transfer scanned pages into editable files, which elevates scanning possibilities to a whole new level. With over 180 languages supported, this powerful scanner gets it all done! Bring an entire library with you everywhere you go!
Featuring a raft of cutting-edge technologies, CZUR Shine Ultra makes scanning a breeze. With our patented Curve-Flatten Technology, it automatically removes curvature and saves you the time-consuming awkwardness of flattening pages by hand. Along with other features including Correct Position, Multi-target Scanning, Remove Fingerprint, Smart Paging, Purify Background and more, this is really the best scanning you can achieve!
Remove Fingerprint
Memories are a precious asset. CZUR Shine Ultra helps making them permanent. Producing amazing 13 full-sized megapixel hi-res scans at 340 DPI, Shine Ultra gives you crystal clear scanning quality. Besides books and documents, it can also scan a wide range of things, such as your ID, passport, receipts, stamps, bar codes, QR codes, even your kids' first drawings and toys.
Multi-target Scanning
Pictures not enough for your scanning needs? How about videos? CZUR Shine Ultra has a new video-recording functionality, which allows you to record a video while you are scanning. This really comes in handy for office presentions, or for teachers.
Although CZUR Shine Ultra is extremely powerful, its portable size will amaze you. Weighing only 1 kg, and with its compact size, this is easily the most portable scanner on the market. Take it with you anywhere work takes you, - library, office, coffee shop, airport lounge, home, wherever!
Tired of using a traditional scanner? Try CZUR Shine Ultra. With the Shine Ultra, you are not restricted to where you happen to have your scanner set up? Bring CZUR Shine Ultra anywhere you go! Scanning on the go has never been easier!
Auto Page-Mending
Correct Position Functionality
Multi-target Scanning
How To Use CZUR Shine Ultra
You can bring the CZUR Shine Ultra anywhere with the ultra safe PortaPack
What's In The Box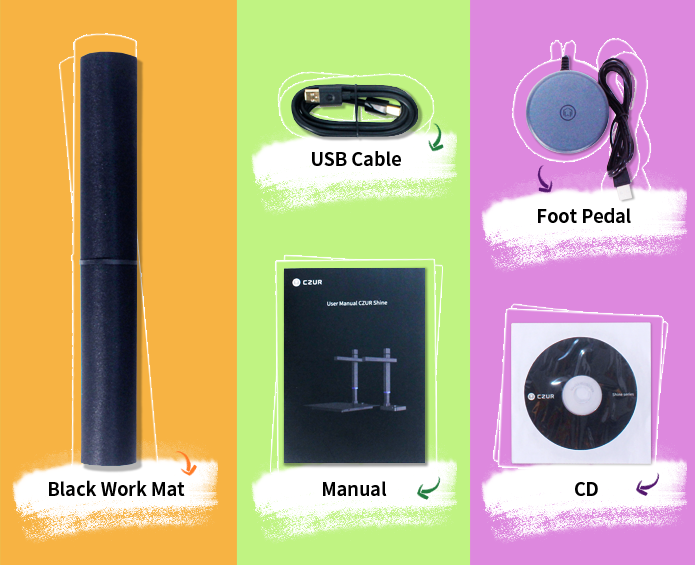 You will find the following in the box:
black work mat
USB cable
manual
foot pedal
CD
Our packing will make sure your CZUR Shine Ultra gets to you safely during its shipping journey
Every detail, no matter how small it is, we make sure it will receive our full attention.
The CZUR Shine Ultra is in production stage already, we are ready to ship them to our backers all over the world!
As an innovator of a cutting-edge technology company and the inventor of a smart book scanner, CZUR is committed to designing and developing products that can reshape the modern workplace environment. Our team always believes that technology can provide convenience at work through continuous improvements and innovations. CZUR Tech focuses on addressing the existing overlooked part of the office or workplace